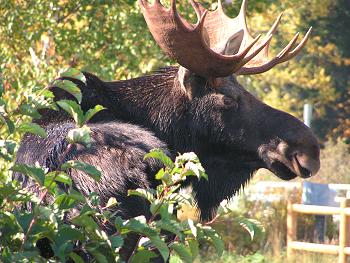 Kokadjo is Maine's moose watching capital. We can direct you to the best spots, including several that are known as the best places to see big moose. You might even see one of our resident moose resting or feeding in front of our Trading Post.
Where to See Moose
A little over a mile from your cabin is Lazy Tom Bog, which has the highest concentration of moose in Maine according to the biologists at Maine's Department of Inland Fish & Game. Bring your camera because you WILL get a picture of one!
When to See Moose
You can see moose most any time of day all year long. But the best times are before 8 am in the morning or in the evening. And the best way to do that is to stay at one of our modern and comfortable cabins. If you are staying elsewhere, be sure to stop at the Kokadjo Restaurant for breakfast after your early excursion, or have a great dinner and enjoy the after dinner show that the moose put on for you.
As some of the following photos will show, the first place to see moose is right here at the Kokadjo Trading Post on First Roach Pond!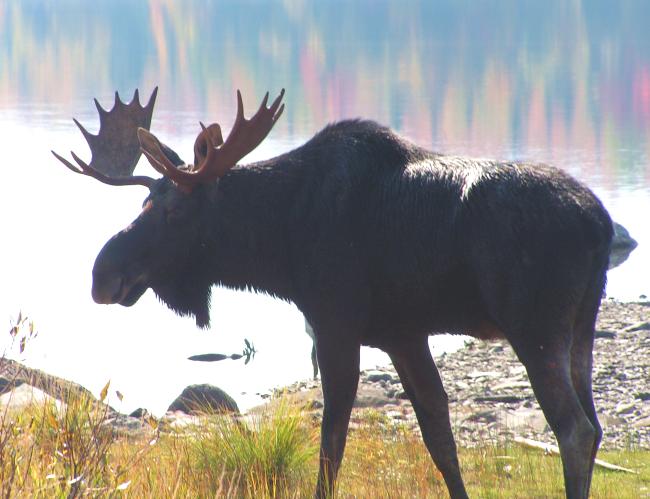 Bull moose on the Kokadjo waterfront (above)
More waterfront visitors enjoying lunch at Kokadjo Trading Post (below)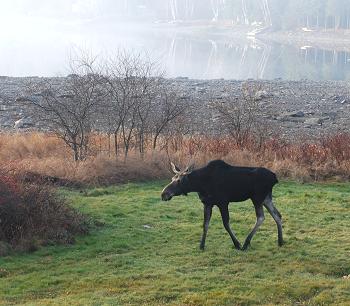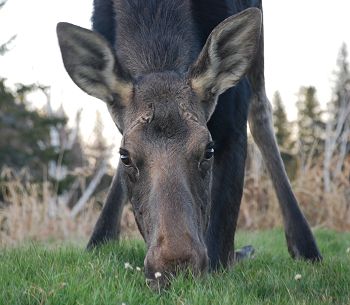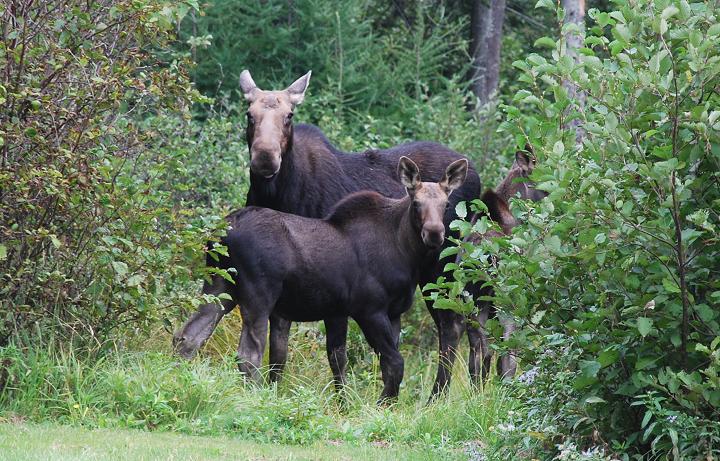 Cow moose and her two calves checking out the activity at Kokadjo Trading Post (above)
Checking out the snowmobile trailers, and munching on the grass (below)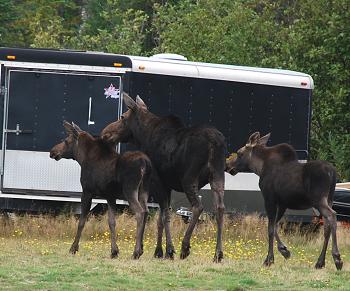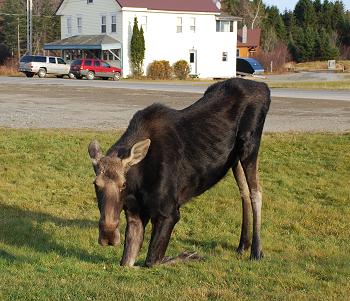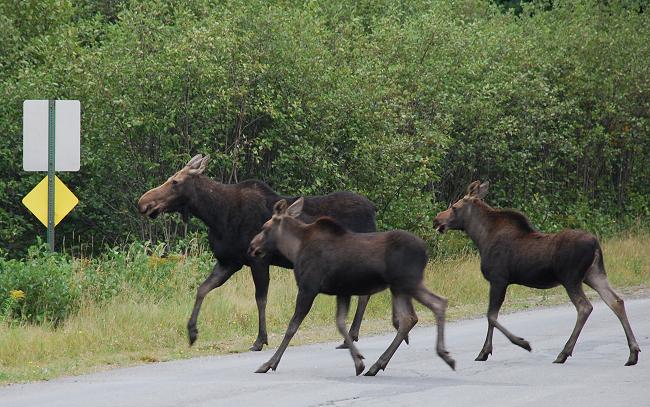 Ma moose and her two youngsters crossing our street (above)
"Do I need a leash too?" (below)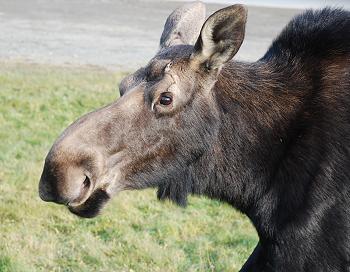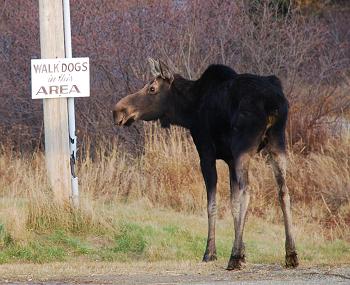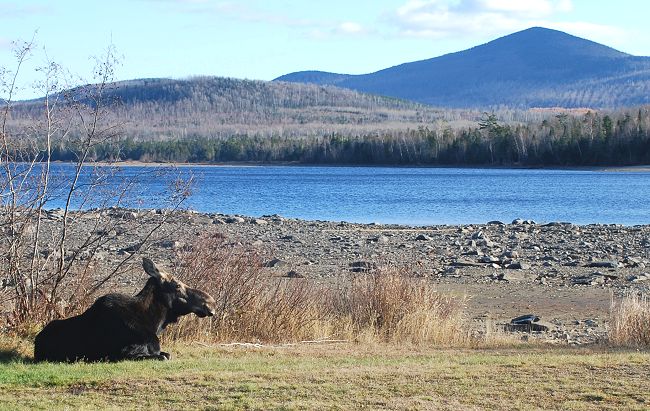 Even moose enjoy the scenery, peace and quiet at Kokadjo Trading Post (above)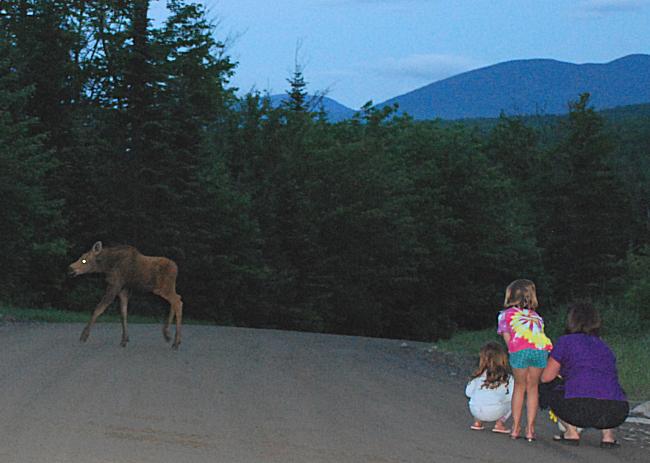 Will these girls ever forget watching this moose calf? (above)
Cow moose relaxing on our waterfront, and calf crosses the road (below)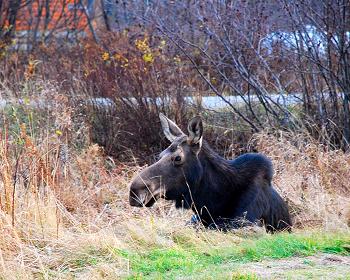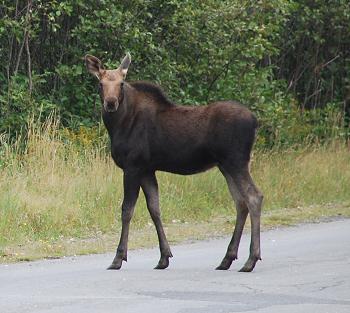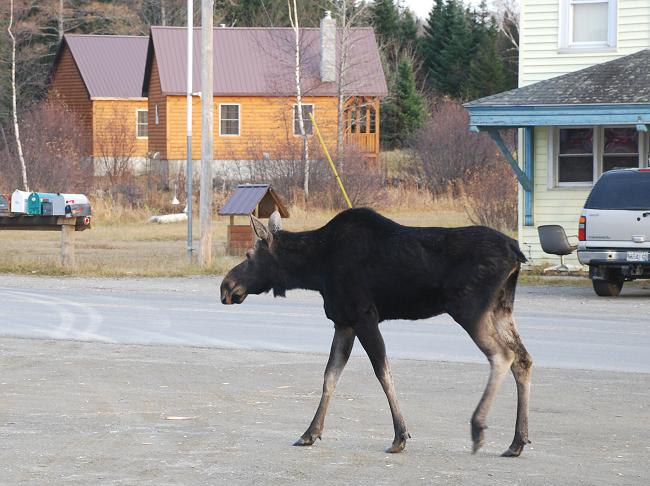 Cow moose in front of Kokadjo Trading Post (above)
Moose calf (below left) and cow (below right). "Population" refers to people, not moose.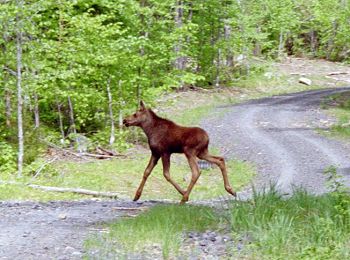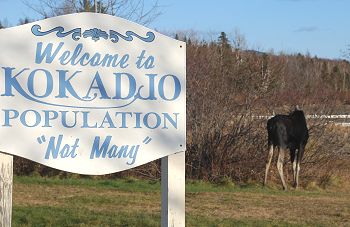 Cow moose on the front lawn of Kokadjo Cabins (above)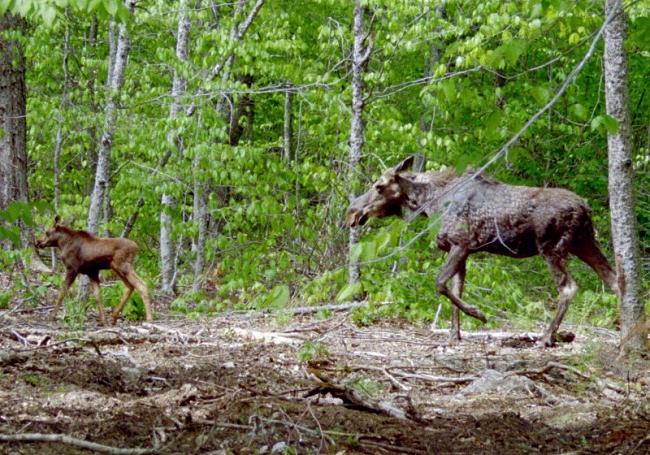 Cow moose with day-old calf (above)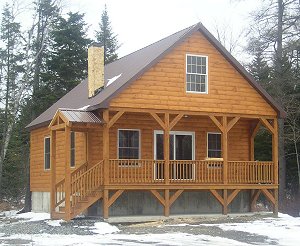 Stay at one of our new cabins on the shores of First Roach Pond. All of our newest cabins have at least one Jacuzzi and some have a fireplace!
More about our Lodging & Cabin Rentals...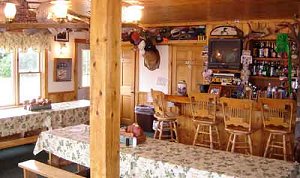 Stop by and have a bite to eat at our restaurant before or after moose watching, riding the trails, or fishing. We have everything from a big breakfast to burgers and fries for lunch to a tasteful home cooked dinner of shrimp scampi, prime rib and more. We have a full menu and bar for all.
Open Daily for Breakfast, Lunch and Dinner
We Serve from Snacks up to a Full Dinner Menu
Beer, Wine & Full Bar
Reservations required by 4:00 PM
Open from 7:00 AM to 9:00 PM (seasonal)
More about Dining at Kokadjo Trading Post...