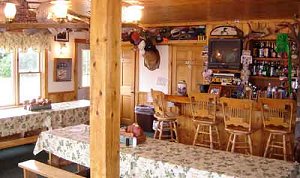 Dining at Kokadjo Restaurant & Bar
Stop by and have a bite to eat at our restaurant before or after riding the trails, fishing, or moose watching. We have everything from a big breakfast to burgers and fries for lunch to a tasteful home cooked dinner of shrimp scampi, prime rib and more. We have a full menu and bar for all.
Open Daily for Breakfast, Lunch and Dinner
We Serve from Snacks up to a Full Dinner Menu
From burgers, sandwiches, and pizzas to shrimp scampi, fish platters and Friday Night Prime Rib!
Beer, Wine & Full Bar
Open from 7:00 AM to 9:00 PM (seasonal)
Reservations required by 4:00 PM
In addition to our restaurant, we stock an abundant supply of groceries, beverages, ice, souvenirs, seasonal outdoor gear, gas, motor oil and emergency parts. Be sure to stop in and take a look. You're sure to find what you need.
Open Daily from 7:00 AM to 9:00 PM (Seasonal)
Snacks
Groceries
Soda
Milk
Gas
Motor Oil
2-Cycle Oil
Propane
Emergency Parts
Beer & Wine
Souvenirs
More about the Services at Kokadjo Trading Post...